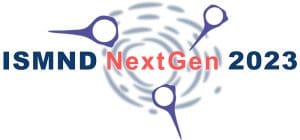 ISMND NextGen 2023:
Molecular and Cellular Mechanisms of Neurodegenerative Diseases
August 23-24, 2023
8:30 AM – 1:30 PM (EST)
We are delighted to announce '
ISMND NextGen 2023: Molecular and Cellular Mechanisms of Neurodegenerative Diseases', taking place virtually on August 23 and 24, 2023.
The conference will focus on the molecular and cellular mechanisms underlying neurodegenerative diseases, with a particular emphasis on proteinopathy, vascular pathways, immunity, diagnosis, and therapy.
This conference is specifically designed to provide opportunities for trainees and early-career investigators to present their research, exchange ideas, and build their professional network. Oral presentations and posters will be prioritized for students in training or candidates within five years post-PhD/MD*, offering them a valuable chance to showcase their work and engage with their peers and senior researchers in the field. Presentational awards will also be available.
We are also thrilled to feature two keynote speakers: Assistant Professor David Gate (Northwestern University) and Professor Charlotte Teunissen (Amsterdam UMC).
Our goal for ISMND NextGen 2023 is to inspire and empower the next generation of neurodegenerative disease researchers to make significant contributions to the field. We look forward to welcoming attendees from around the world to this exciting event and creating a vibrant platform for young scientists to connect, learn and share their research.
We are delighted to announce the 'Bioneer Best Speaker Award' sponsored by Bioneer – A $500 cash prize for the best speaker!
**Announcing two new awards courtesy of PBL Assay Science! "PBL Assay Science Best Poster Award" – a $500 cash prize and the "ISMND 2024 PBL Assay Science Travel Fellowship" – a $1500 travel fellowship toward our ISMND 2024 conference
The official program for the conference is forthcoming. Abstract deadline: July 26, 2023
*Contact Us for extenuating circumstances.