Aging, Immunity and Peripheral Factors in Neurodegenerative Diseases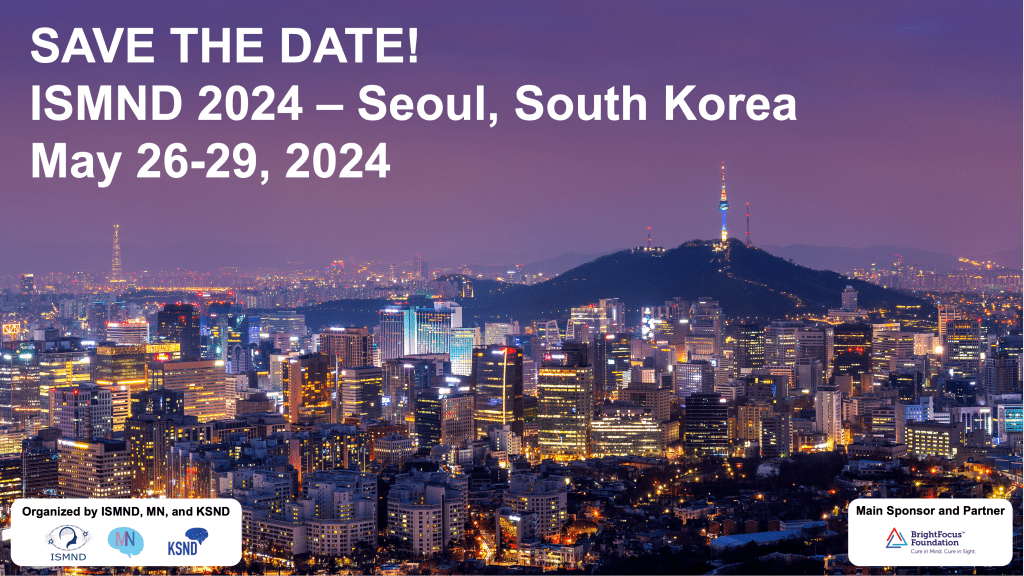 The International Society for Molecular Neurodegeneration 2024 conference (ISMND 2024) will be held from May 26-29, 2024.
The conference theme will cover broad aspects of neurodegenerative disease, including but not limited to aging and systemic effects, immune and related mechanisms, genetic and biomarker studies, and common and distinct pathways across neurodegenerative diseases.
Conference and registration information will be available soon!
• Adriana Di Polo Canada
• Alison Goate USA
• Bart de Strooper Belgium
• Carol Cheung Hong Kong
• Charlotte Teunissen The Netherlands
• Colin Masters Australia
• David Gate USA
• David Holtzman USA
• Dimitri Krainc USA
• Inhee Mook-Jung South Korea
• Jeong Hun Kim South Korea
• Jungsu Kim USA
• Junmin Peng USA
• Karen Duff UK
• Li Gan USA
• Mathew Blurton-Jones USA
• Melanie Samuel USA
• Melissa Murray USA
• Meng Wang USA
• Miranda Orr USA
• Owen Ross USA
• Philip Wong USA
• Rudolph Tanzi USA
• Sangram Sisodia USA
• Sandrine Da Cruz Belgium
• Seung Hyum Kim South Korea
• Seung-Jae Lee South Korea
• Takeshi Iwatsubo Japan
• Ted Dawson USA
• Wilfried Rossoll USA
• Won-Suk Chung South Korea
• Xiaodong Wang China
• Xiaofen Chen China